NEWS NEWS NEWS - Get the latest news about HIRSCH Engineering Solutions
March 2023
"BREAKTHROUGH FOR THE BEARER OF H-OPE"
Eichstätter Journal reports on the hydrogen players in the region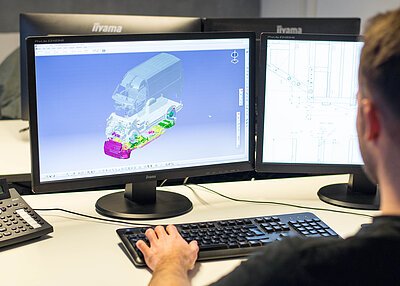 Under the headline "Breakthrough for the Bearer of H-Hope", the Eichstätter Journal published a multi-page article in its first issue of 2023 covering the activities in the district of Eichstätt on the topic of energy transition through hydrogen. In addition to a short general overview, selected examples of local companies were presented and explained. 
In this context, the editors also wrote about us:
"The hydrogen future is also being created in Eichstätt, on a site in Industriestraße" [...], the article says at the beginning of the passage about HIRSCH Engineering Solutions.

In the text that follows
the initiative "HyStarter - Hydrogen Region Eichstätt", to which we belong
the participation of our CEO Thomas Hirsch in the delegation trip of the Bavarian Ministry of Economics, Regional Development and Energy to Oman last November (main topic: energy/hydrogen and environmental technology)
and our role as #MÖGLICHMACHER for energy and environmental technology projects
were both mentioned and explained.
However, the focus of the coverage on us was the project implemented in 2022 for a well-known Bavarian automotive supplier.


Development of a hydrogen power system for utility vehicles
Within the scope of a customer project we were allowed to support the conversion of three VW Crafter vans from combustion to fuel cell drive. 
Among other things, we were responsible for the structural analysis, all necessary design work, the preparation of technical drawings and strength calculations as well as the production of axle connections, engine mounts, brackets, support frames, cooling ducts and battery components. We were also in charge of installing the necessary components such as hydrogen tanks, piping elements, battery, control electronics, air supply and cooling. 
The finished vehicles are now in test operation on the road, generating data (ranges, charging times, etc.) and empirical information for the optimization and further development of this technology.


The importance of new power technologies for utility vehicles
The importance of such field-oriented hydrogen test projects can hardly be overestimated, because vans such as the VW Crafter are still indispensable throughout the logistics sector and are likely to remain so in the future. 
The need for more sustainable supply chains and more environmentally friendly flows of goods therefore makes the question of new CO2-free forms of powertrains for this type of vehicle imperative. For series-produced hydrogen commercial vehicles to become a reality and also the norm, numerous similar technology test projects are required in the coming years for this reason - as well as the necessary enablers (Möglichmacher).  
Our goal for 2023 is therefore to carry out further projects of this kind in order to drive forward the further development of hydrogen technology as such and also to anchor it here in the region (even) deeper.
 
Your Team HIRSCH