Quality Management
We offer quality at the highest level. That is why our quality management system complies with ISO 9001:2015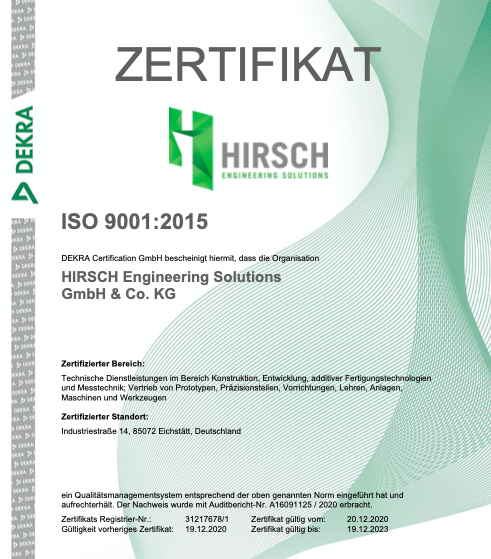 In order to ensure the same high quality of the company and its products for all target groups, our goals are structured according to the SMART principle:
| | |
| --- | --- |
| S |  - our goals are specific and concretely described |
| M |  - our goals are measurable |
| A |  - our goals are attractive |
| R |  - our goals are realistic |
| T |  - our goals are timed in an achievable manner |
Customers
Our goal is to build a long-term, transparent and reliable relationships with our customers, based on the principle of mutual trust. We are fully committed to meeting our customers' needs and to develop solutions at an early stage whenever possible.
Staff
In order to achieve our quality goals, all employees are equally involved in the quality concept. The company policy is always exemplified by the management. The quality objectives, which are based on the market and various requirements, are determined by our customers and the management. In order to achieve these goals, trained, motivated and competent employees are a prerequisite. Therefore, we see it as our task to constantly develop, train and motivate our staff.
Suppliers
We are closely connected to suppliers through various business units. It is only through smooth collaboration within the processes that we can meet the needs and requirements of our customers.
Processes
Our primary goal is to continuously improve processes and develop solutions. In this way, we want to stand out from the competition and differentiate ourselves from other companies.
Another important goal is to generate enough profit to ensure the company's growth and to continue to invest in our employees and the company.